When looking for a place to store your belongings, Road Warrior Moving has the facilities to provide clean, dry, climate controlled and 24/hour secure storage. You can have the peace of mind whether it be short term storage for a few days to a few weeks or long term storage for a few years that your precious belongings will be in good hands.
We store your belongings in wood storage vaults that are 5'x7'x7.5' in dimensions that hold about 260 cubic feet of inventory. An average furnished room in your house would fit into one of our storage vaults. Our warrior men pack these storage vaults very tight to maximize your storage to save you money in storage cost. The amount of storage vaults you need will depend on the size of your dwelling or volume of storage.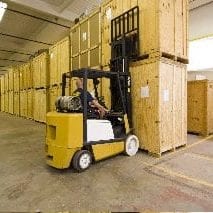 When Road Warrior moves you into our storage facility we carefully wrap your belongings in clean moving pads and/or shrink wrap. We also inventory every item that we touch in order to keep track of your belongings and its condition all thru the process. Both Road Warrior and the customer will have a copy of the inventory. After your vaults are loaded and sealed, we stack them carefully in rows in our warehouse.
If you need 10 Storage Vaults or more please call the office for special pricing.
You can also bring your storage into our warehouse yourself if you prefer and load or unload your vaults on your own. If you need help, we can provide you a man at the rate of $85/hour. Any items you bring in on your own will need to be inventoried and checked by one of our warehouse men.